Blog
Welcome to our Blog page, where you will always be able to find the latest news about the Society and our wonderful hobby of Phillumeny.
If you have any comments on the Blog or news that you want to share please email us on blog@phillumeny.com. You can also follow us on Instagram using @ukphillumeny
'In the news ….. 150 years ago' has inspired a special article to be written, which is being published in two parts. It has the title: 'The Proposed Match Tax of 1871 – Part I', this first part will be included in our April magazine, and covers the events of April 1871.
We are pleased to announce that this year's Annual General Meeting (AGM) will be held on line using the popular Zoom video conferencing platform. The AGM is going to be held on April 11th at 14:00 UK time.
In 2008 a comprehensive book with 88 pages was published with the title Harlequin Matches. This was followed by a second edition that was significantly larger with 120 pages. Now a third edition, which adds in even more information about these fantastically colourful matchboxes has been published (February 2021) and is now available for purchase. It details Bryant & May's range of Harlequin Matches. It is laid out in the same format as the previous editions. It is arranged in two sections. Section One details the cardboard Harlequin range and Section Two the Plastic Harlequin range. The third edition now numbers 137 pages and is illustrated thought-out in colour with 173 pictures. Full review will appear in the April magazine.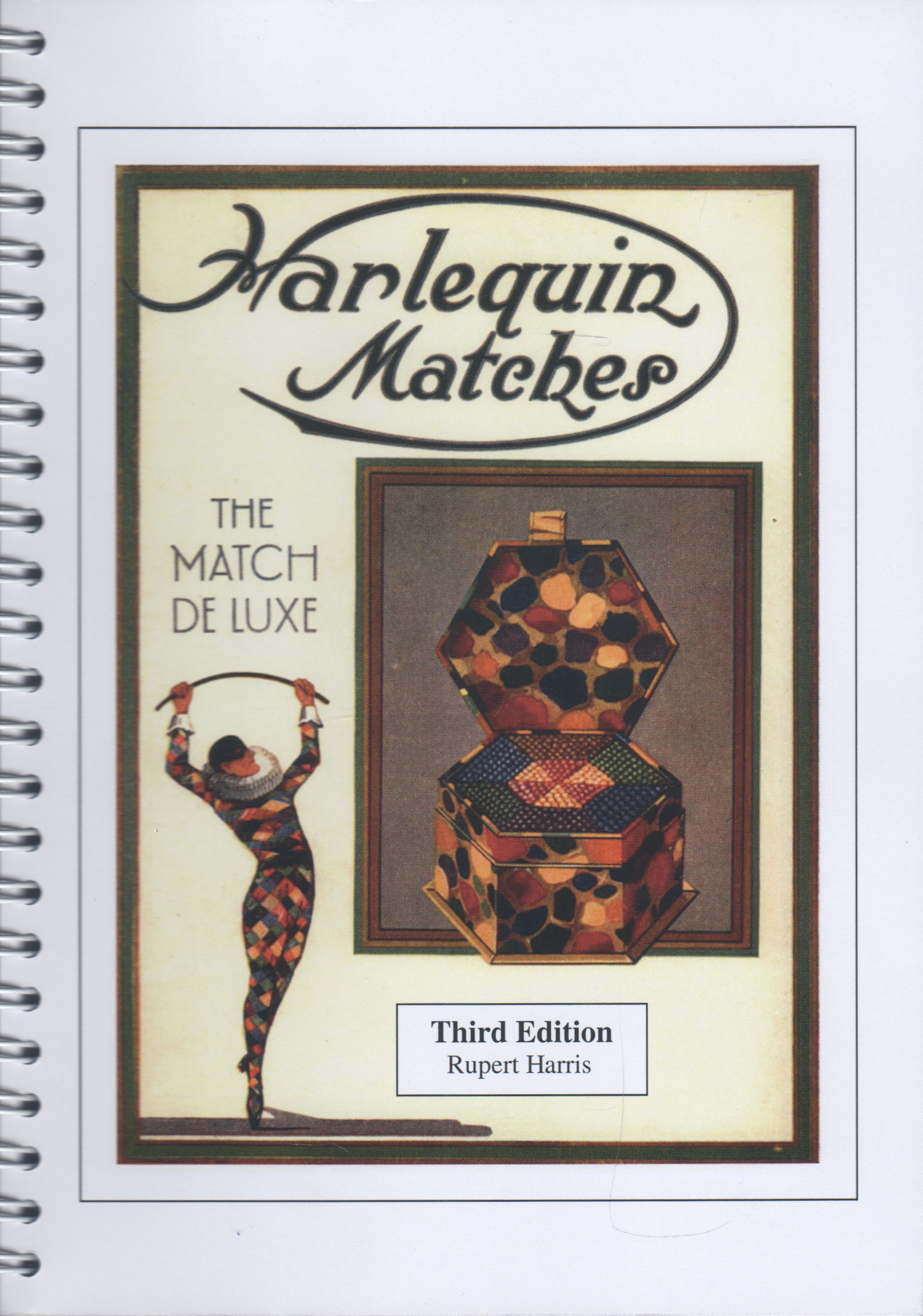 Harlequin Matches Third Edition
The new Netflix movie THE DIG is set in 1939 and tells the story of the Sutton Hoo archaeological dig and treasure trove. Many of the characters smoke, and there are several closeups of matchboxes. The continuity people did a good job, because they clearly show a wooden England's Glory box on several occasions.
Between 1st and 15th January 2021 the Bangladesh Matchbox Collector's Club held the world's first on-line matchbox exhibition. The Exhibition is now closed, but a review of it can be found in the February magazine.