Exhibitor : Phil Stringer
From the early beginnings of the match industry the labels applied to boxes have depicted a wide variety of topics, those of a purely typographic design but many depicting pictorial images or interpretations of animal, vegetable and mineral subjects, in fact just about anything you can think of. However the match and its box have become iconic images of their own and can be found to be represented in many products both practical and whimsical. Here is a mere sample of some I have come across.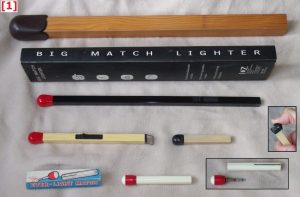 Fuel lighters:- From the top; a wooden match with plastic head, eighteen inches in length the head is removed to reveal a disposable lighter concealed inside. The "Big Match Lighter" thirteen and a half inches long seen below its box and to the left below that, are two gas lighters operated by electric switches, to the right another gas lighter worked by thumbing the head back (see inset). At the bottom of the page is the "Ever-Light" here the head unscrews to withdraw a petrol retaining tube with a steel plate designed to be drawn across the pyrite striker in the stem (see inset) this system is often found under the title of "The Permanent Match".
Bar ware:- A large ceramic match measuring thirteen inches, inscribed "MADRIGAL STONEWARE MADE IN ENGLAND" on the base. These are generally described as match strikers where the matches would be sitting loose in the trough for customers to take and strike against the rough body of the piece.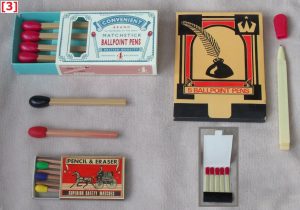 Useful implements:- Top and below; plastic pens where the head is removed to reveal the ballpoint nib. Third down; similar to above but a pencil. Bottom; a box of matches where the heads are rubber erasers. Right; ball point pens in an oversized bookmatch cover.
Consumables:- Top left; a miniature whiskey bottle made for a matchbox sized container. Right; chilli samples from a modern range of different novelty food samples. Bottom; two different Bryant & May small size boxes with Ark labels produced for Maynards.
Whimsical and practical:- Top left; One from a series of plastic scenes made to be inserted into what are genuine England's Glory boxes with a label added to the side panel (see inset). Below; a music box in a matchbox. Right; two plastic matchbox pencil sharpeners.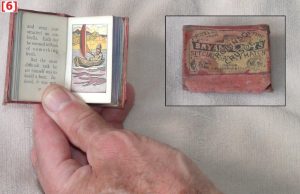 Miniature book:- An illustrated copy of Robinson Crusoe the size and design of a Bryant & May Ark box on the cover.
Trick box:- A box where the bottom side has a compartment where a coin could be concealed with a nice label that could pass for the genuine item.
Calculators:- Two diminutive pocket calculators one as a bookmatch and one as a matchbox.
Various:- A sponge, a tin, a patch, and a metal match that may have been given as a token to a couple.
Stationery:- Top left; notebook, below; plain paper pad, centre; and inset bookmatch style memo pad, right; matchbox label card set.
Click here to return to the Exhibition Catalogue.