Exhibitor : Anthony Harris
Welcome to my Matchstick garage (Bryant & May Woodcraft kit, distributed in the 1980's, but put together more recently). To give you an idea of the size of my garage the double doors are 4.5cms high.
It is Friday today and it will be a busy day. Please join me for this day in my life.
My employees
I am the garage proprietor and I have three employees :
Bradley (or Wiggo to those who know him well) who cycles into work, sometimes on a penny farthing), sometimes on his Tour de France racer. He has been with me the longest
Next is Phillip (we call him Prince), who commutes to the garage in his carriage
And then there is the new apprentice Chip (Chocolate Chip for his full name), who is dropped off this morning by his 'Mother' in her Cookies van
As I mentioned we all have a busy day ahead.
The four of us are in the garage this morning and then off to a racing circuit this afternoon and then the rest of the weekend providing mechanic support.
I need to get a motor on and ensure I and the team perform in all conditions.
Friday's jobs
I wish to show you some of the jobs which I and the team need to be complete at the garage this morning.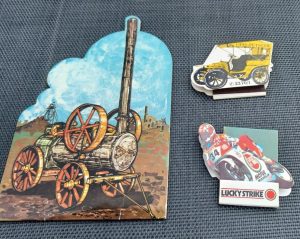 They are unusual quirky matchbook shaped items that appeal to me :
A traction engine which is only depicted on the front. On the back it advises it belongs to Poldark Mining Ltd, Wendron Tin Mine, Helston, Cornwall. This engine manufactured by the Cornish Match Co Ltd Japan, with a surprisingly low carrying load of only 6 Matches. – The traction engine requires a timing chain adjustment. Measures 17cm's to the top of the chimney.
A vintage Opel (double sided)- the German owner has asked for ABS to be fitted! "Unser neuer opel Betrieb Manfred Petsche Ganserndorf Wiener Strasser" – this car comes from the new Opel Company that has opened in Wiener Street, Ganserndorf. Contains 10 matches.
A Lucky Strike Motorcycle (again double-sided) which needs a full service ahead of being collected later in the morning. Contains 20 matches and is unmarked.
A Mercedes Benz Unimog UX 100 which a smiling Chip is recharging the air conditioning on. Empty of contents and no other marks. Chip is standing and is 8.2cm's tall
A Family car needing an MOT. Completely empty and un-marked.
A Motorhome which is 9.3cm's long needs new tyres. It Contains 10 matches and again is un-marked.
And lastly a Hillman Super Imp. It advises on its boot that it is "Britains brightest light car, on the inside it suggests it is "a striking success" and contains 20 black matches. The Imp requires a new radiator and some antifreeze.
Two Trucks (which are match book containers) have arrived in time with the parts and accessories that we need to complete this morning's jobs.
The 10-wheeler Megatruck Ruan has an articulated cab. The trailer has a match book door back and front. Overall length is 23 cm's and at 7.5cm's height it only just went under the local bridge. Manufactured by Universal Match, St Louis.
The Inter-monde van has a back door through which 4 of the original 6 sovereign matchbooks are still loaded. Delivery depots are detailed on both sides and include 3 Belgium cities of Bruxelles, Anvers and Zaventem. Identical in size and shape to the Cookies van. Whilst not marked I suspect because of its identical shape to the Cookie van, it was also manufactured by Universal Match
The deliveries thankfully included the anti-freeze (or Ethylene Glycol) from Shell. The can is plastic capped, made in Holland and is 5.5 cm's tall and a diameter of 3.8 cm's. More than enough to fill the Super Imp. Now time for a brew, the biscuits are in this Ian Logan Associates Limited Queens Silver Jubilee 1977 bus tin (the tin was based on an original design of Huntley and Palmers produced in the early 1900's.). Tea drunk and empty mugs placed on the tray ready for washing up. The tray shows Bryant & May advertising on the side of a tram and is otherwise unmarked with a diameter of 30.5 cm's and depth of 2.5 cm's.
U-Haul (also trade-marked as Mom's Attic), claims to be the "Number one family mover" send their "Van that rides on air" to pick up the Lucky Strike Motorbike. The service has been completed in time.
Payment can be made through the slot in the roof now that all the U-Haul matchbooks have been removed. The back and the front both open. Manufactured by U Haul in 1988. 21 cm's long.
It is now the end of the morning, and I am delighted that we have got all the work done.
Saturday, getting ready for race day
I have hooked up the caravan to my time travelling car (gripping stuff!) and we are all off to an American racing circuit where we are on duty as race mechanics for the Smokin' Joe's race team.
The Caravan came "with the compliments of Sprite Caravans, it contains 10 yellow headed matches and is marked as a Finnovision made in Finland. The car is marked on the spine "Safety Matches Smoke Stone Co Ltd Made in Japan". On the reverse is the question "Will Your Car start Tomorrow?" I hope it does! Standard size 6 x 4 2 cm's, but big enough to tow the caravan safely!
Smokin' Joe's is a US (Headquarters in New York) Tobacco and Cigar Brand that also operates trading posts and a chain of smoking stores. They have brought two vehicle transporters to the race circuit.
The rectangular vehicle transporter pictured below carries a motorbike on the front side, two different racing cars and a dragster on the other sides. This container was made under 1994 copyright by the R J Reynolds Tobacco Co. Within the container is a VIP pass, a catalog of available Smokin' Joe's merchandise, information on the health risks of smoking and at the bottom of the picture a notification that there are 50 different match books to collect. The dimensions of the tin are 19 x 11.3 x 6 cm's.
The second Smokin' Joe's Road transporter is cylindrical shaped. It has an insert lid, then another proper lid. It measures 8.6 tall and has a diameter of 11.3 cm's
The team has an unbelievable line-up of Drivers, Nascar's (National Association for Stock Car Auto Racing's) finest, comprising (match books of) all the Winston Cup Winners from 1971 to 1994, and two of the greatest of all time, namely Dale Earnhardt senior and Richard Petty who each won the Winston Cup annual series 7 times. The tin has the same dimensions as the Smokin' Joe's rectangular transporter tin, 19 x 11.3 x 6 cm's.
What a performance the drivers put on with some great qualifying lap times achieved, all going so well ahead of racing tomorrow, so time to celebrate with some bubbly and chocolate (lots to go around from this box which measures 7.3 x 6.2 x 1.8 cm's)!
What a great day. Time to go to sleep in the caravan. Thank you for visiting the garage and joining me racing. I hope we can do it all again soon.
Click here to return to the Gallery.