Exhibitor : Fernán Pacheco
I met these beauties on a trip to Buenos Aires. It was love at first sight. It corresponds to a series of female artists of the Golden Era. From 1880 to 1930, Argentina became a leading destination for immigrants from Europe, particularly Italy and Spain. Buenos Aires became a multicultural city that ranked itself alongside the major European capitals. During this time, the Colón Theater became one of the world's top opera venues, and the city became the regional capital of radio, television, cinema, and theater in Argentina.
They are cardboard boxes with wax matches under the Gloria brand, manufactured by the Compañía General de Fósforos de Sudamerica. The company was born around 1890 and was the product of the union of the companies Bolondo, Lavigne y Cía (1878) and A. Dellachá and Hermano (1882), the latter founded by Cayetano Dellachá, an immigrant who had directed the match factory that his brother Ambrosio owned in Moncalieri (Turin).
The boxes are complete and with an unbroken 2 1/4 cent tax stamp, something exceedingly difficult, if not impossible, to find these days, hence I consider it the "jewel of my collection". I am pleased to exhibit this material as it represents a connection between the hobbies that I am enthusiastic about : phillumeny and philately, in particular, revenue stamps.
Nine of the boxes indicate the name of the artist, the other five do not. I estimate that the series is from the 30's or 40's. As I do not have much information about them, I made a trip in the past to remember these forgotten artists and thanks to the Internet I collected the following information.
Adelina Morelli (1898-1950). Soprano. Studied piano and graduated as a concert pianist with a gold medal. Her debut as a lyrical singer was in 1918 in the city of Montevideo singing Rigoletto. In 1922 she made her debut at the famous Teatro Colón, where years later she was the star in the premiere of Fedra.
Adhelma Falcón (1902 –1987) Tango singer. She made her debut on Radio Belgrano's "Hora Geniol" in 1931. Her beauty made her worthy of being the cover of magazines on more than one occasion. She had a romantic relationship with the tango singer Charlo in the 1930s, a relationship that would have been interrupted when the singer met Sabina Olmos.
Pepita Muñoz (1899- 1984). Actress. She began her artistic career in the circus. In 1934 she made her first film appearance in Under the Holy Federation, by Daniel Tinayre. She always acted in supporting actress roles, she excelled in comedy and dramatic movies. She participated in 41 films. She also participated on radio, cinema, theater and television.
Maria Esther Pomar (1896-1983). Actress. At the age of 3 she began her artistic career in the circus as a Creole singer. She then went to the theater where she toured internationally. During the silent period in cinematography, she stood out for her great beauty and was considered the one with "the most beautiful eyes" (until the 1930s, when she began to compete with Amelia Bence).
Isabel Marengo (1897-1977). She was a renowned lyrical soprano, the first to have that vocal status in her country. She lived most of her life in the town of Temperley. She carried out her musical studies at the Carlos Lopez Buchardo Conservatory and she debuted in 1926 at the Teatro Colón as Micaela in Carmen.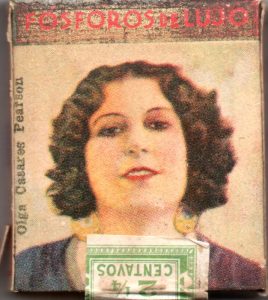 Olga Casares Pearson (1895-1979) was an actress with a career as a theater, radio and film actress. She was born in Italy; she was brought from a very young age to Argentina. She worked on the radio with great success forming a couple with her husband Ángel Walk and in 1933 they composed the first star couple of an adventure radio drama called Yankar.
Evita Franco (1906-1999), better known as Eva Franco, was an Argentine actress who stood out in theater, film and television. She appeared in more than 200 plays and 22 films. She stood out as an exceptional actress from the beginning of 1923, when she was 16 years old, in the theater company directed by her father.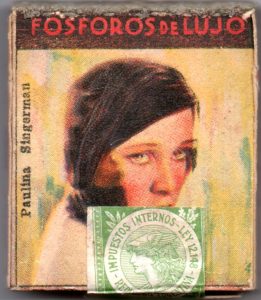 Paulina Singerman (1911-1984) Television and theater actress. In cinema she generally played capricious millionaires' characters in comedies produced by Lumiton, showing a surprising talent for the genre. She participated in 10 films. After her film career, she stood out in theater and on television until her last days. In 1981 she received a Platinum Konex Award and a Diploma of Merit for Best Comedy Actress.
Leonor Rinaldi (1894-1977). Comic actress of film, radio, theater and television. She began her career in farce and as an extra in a Philo dramatic group, making her professional debut in theater in 1918. From a very young age and due to her physical build, she always played the role of a character actress. Her stocky body, prone to obesity, which gave her an older appearance, made her generally play mother-in-law or mother even from actresses who were older than her.
Click here to return to the Exhibition Catalogue.