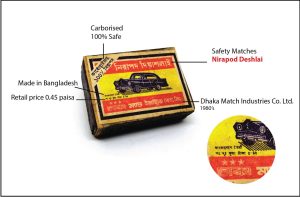 Exhibitor : Shakil Huq
Here I am showing some rare matchboxes of Bangladesh, which are absolutely hard to find in Bangladesh. All the matchboxes are wooden.
At one time there were many match factories in Bangladesh from where many colourful matches were made. In my childhood I saw those colourful matches. Unfortunately I didn't collect matches back then. Very sorry now. As far as I know there were no significant matchbox collectors in Bangladesh in the past. Due to which matchbox never gained popularity and is neglected in this country.
Dada Match Factory
But a very beautiful match has been created in this country. Dada Match Factory was one of the many match factories in Bangladesh, and was established at the Rupsha industrial area in the port city of Khulna in 1956, next to the Rupsha river. Dada Match even had a partnership with the world famous Swedish Match. It shut down in 2010 after being hit by a serious financial crisis. The factory used 400 permanent and 1,000 part-time workers who were not paid when the factory closed. Boxes from Dada are very hard to find.
Dhaka Match Factory
The Dhaka Match Factory was a subsidiary of Dada, and was located in the capital city of Dhaka. I am lucky to have some boxes from Dhaka in my collection.

Click on an image below to enlarge it and see some rare matchboxes from Dhaka Match and other Bangladesh manufacturers, together with some pictures of the now derelict Dada Match factory.

Now there are only two match factories operating in Bangladesh but year after year they produce matches of the same design with no variety. It can be said that the use of matches is decreasing in Bangladesh now. Most people use lighters.

Click here to return to the Exhibition Catalogue.