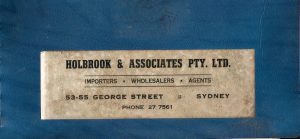 Exhibitor : Chris Hime
Holbrook was an importer of bookmatches into Australia. The bookmatches came from the Monarch Match Company of San Jose, California. Most of the booklets made were contents 20 with only a few contents 30 or 40 and the samples in the salesman's catalogue show 'Made in U.S.A' and feature American businesses
The manumark was Holbrook, Sydney – 26 2841 Contents 20 made in U.S.A. There is also a manumark Holbrook Match – 280 Pitt – Sydney Contents 20 – Made in U.S.A. According to an article in the 'Observer' they were operating from this address in 1969.
Ken Holbrook, manager, was a financial member of the now defunct Sydney Phillumenists Club and attended meetings with his wife Fran.
The range of bookmatches offered was:
'Business Builder' comprised of four colours – green, blue, red and black with silver print.
'Colorama' comprised of ten colours – pink, beige, blue, orange, green, mauve, red, teal, yellow and old gold with black print.
'Tenorama' comprised of the same ten colours as above but embossed with silver ink.
Five Glamour Girls, Safety Series, Americana Scenic Art, Illustro-Ad and Hillbillys were also offered along with metallic in silver, red, gold, bronze and green.
Here are some Holbrook bookmatches from my collection, click on an image below to enlarge it and see the bookmatches.
Click here to return to the Exhibition Catalogue.