Exhibit : European match holders
My name is Hans Everink, 60 years old and I live in the Netherlands.
My passion for matchbox labels started when I was a little boy from 10 years old. At that time I also collected stamps, cigarbands and many other items which you could collect for free. But after some years I stopped with a lot of these items and focused on collecting matchbox labels, matchboxes and matchcovers from all over the world.
When I became older I also started to visit general collector fairs and specialist collector fairs for meeting other collectors with the same hobby. I exchanged a lot with collectors in the Netherlands and also with foreign collectors by post and at international fairs, like Belgium or Germany.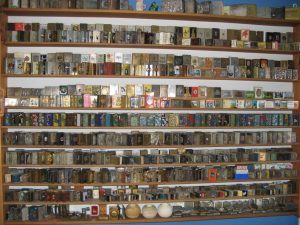 After years of collecting everything about matches, I now only collect matchbox labels from everywhere. I also have an extensive collection of match holders and have my own website dedicated to the hobby.
Click here to return to the Exhibition Catalogue.