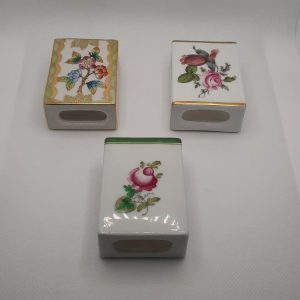 Exhibitor : Hans Everink
In general, match holders are metal boxes in which matches were stored, provided with an abrasive surface to light the matches. A match holder is also a matchbox in a slice or grip. As matchboxes were frequently used, the wooden boxes suffered so much damage that soon they couldn't be used anymore for striking the matches. As a cure, the box was put into a slice. There are holders not only for matchboxes but also for matchcovers (folded cardboard covers with break-off matches provided with a striking place to light the matches).
History of the match holder
The history of the match holder starts in the 19th century. When matches were invented in 1830 people immediately tried to think of how to transport these "dangerous" things. The first match holders were produced as early as 1835 and were made of wood; later iron and other materials were used. The simple match holders were made for the common people. Only the wealthy could afford expensive holders (made of silver and richly ornamented).
Types of match holder
Many different types of match holder can be found, such as Vesta cases, 3-piece boxes, trick or puzzle boxes, the candle in a box, grips, slides, holders for bookmatches, stand-alone holders and wall-mounted holders.
Here are some of my favourite match holders from my collection. Click on an image below to enlarge it and see the match holders.
Click here to return to the Exhibition Catalogue.