Exhibitor : José Ventura García
Click here for Spanish language version
1981 was a very important year for Fosforera Española (FESA) because they celebrated 25 years of independent production of matchboxes in Spain after 65 years of state controlled manufacture. Also, it represented 150 years since the first matches appeared in Spain.
FESA decided to commemorate this milestone in two ways :
by commissioning a book illustrating the extensive Spanish match industry from 1836 to the present day entitled "Siglo y medio de Fósforos" (a century and a half of matches)
by issuing a special presentation box containing more than 30 matchboxes with a special logo on their backs
150 years of matches in Spain
The first matches in Spain appeared in 1836 when Don Pedro González began making and selling matches from his factory in Barcelona. This marked the start of a great expansion of the industry, and more than 60 factories have been identified before 1892 (e.g. Lasa, Garay, Gisbert, Zaragüeta, Jauregi, etc).
In 1892 the Spanish Government needed to raise funds and decided to nationalise the match industry by passing a law on 30th June 1892 creating a state controlled monopoly. This monopoly lasted until 1956 when the Government decided to place the industry back into private ownership.
Fosforera Española was formed in 1956 by D. Ildefoso Fierro and during the next 25 years they produced many attractive series of boxes and bookmatches with illustrations by well known artists which were very successful amongst the general public.
In 1992 ownership of the industry was transferred to Swedish Match, and in 2005 the last factory operating in Spain, Alfara del Patriarca in Valencia, closed its doors for the last time
Christmas presentation boxes
Over the years FESA produced 20 presentation boxes containing matchboxes dedicated to famous painters. These were given as gifts to members of the company administration, to local personalities, in Madrid to politicians and members of the Fierro family, and were always accompanied with a Christmas Card.
Between 500 and 1000 of these presentation boxes were made each year and there were always a few items left over which were kept for a few years.
The matchboxes themselves were made in four different factories in Spain according to their size. The presentation boxes were constructed in Madrid in the early years and later in Tarazona and Valencia.
All of the presentation boxes are beautiful and should be considered as authentic works of art. Because so few were made they are now very rare.
Special 25 year anniversary presentation box
The presentation box that FESA made for their 25 year anniversary is really distinctive. It contains more than 30 boxes that are reproductions of some of the most well-known series, and one with a special logo. Each box shows the original year that the series was issued.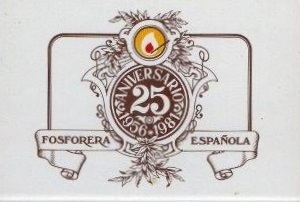 The matchboxes are of different sizes, including Labor No. 1, 2, 4, 6, 7, 32, 33. In the same way as the Christmas presentation boxes, the matchboxes were made in different factories according to their size (Tarazona made Labor 1, 2 and 7, Valencia 6, 16 (bookmatches), 32 and 33, Carabanchel or Vallverde 4 and 21).

Today you can still find empty or full presentation boxes, and individual boxes complete or as skillets, and they are always a joy to behold.

The gallery below shows some of the boxes from the 25 year anniversary. Click on an image to enlarge it and see the boxes.

In conclusion, we can see that the year 1981 was an important one for Fosforera Española, and it offers us phillumenists a good opportunity to fondly remember those days when we look at the book and the beautiful boxes.

Click here to return to the Exhibition Catalogue.