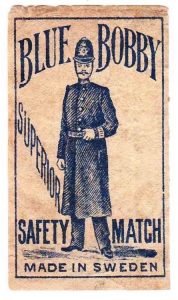 Exhibitor : Middleton family
Matchbox labels with Policemen on them have always fascinated me, and recent discoveries while researching my family history help me understand why this is : our family had three generations of men who served in the London Metropolitan Police from 1870-1947 and a Great Uncle who served in the Middlesbrough Police Force from 1922-1945. They all had exemplary service records.
One of these ancestors, my maternal great grandfather Albert Ferrett (1870-1946), enrolled in the Met. on the 13th April 1891 and was discharged to pension on the 14th January 1918 with the rank of Inspector. He was based at New Scotland Yard.
While he was serving in the Metropolitan Police he was present at three Royal events : Queen Victoria's Diamond Jubilee in 1897, King Edward VII's Coronation in 1902 and King George V's Coronation in 1911.
I am therefore proud to say that my great grandfather not only 'met' Queen Victoria but he also 'met' Edward VII and George V – quite an honour, for which he was awarded commemorative medals by the force.
Although we can't be certain, and to quote the well known schoolboy folk song, we like to think that Albert would have also met the Prime Minister Lloyd George during WWI carrying out his policing duties!!
Royalty matchboxes
There are many matchbox labels depicting Royalty from all around the world, but I wanted to feature labels that Albert would almost certainly have known and come across in the streets of London and which celebrate these three Royal events. Click on an image below to enlarge it and see the label.
Click here to return to the Exhibition Catalogue.