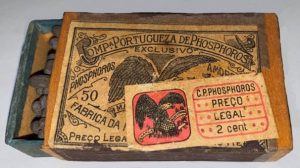 Exhibitor : Joel Viana de Lemos

Click here for Portuguese language version
It was not until 1895 that Portuguese matchboxes displayed the selling price to the public, and this was because the government stipulated that the newly created national concessionaire Companhia Portugueza de Phosphoros (CP) did so.
With the establishment of the Portuguese Republic on 5th October 1910, the Portuguese currency was renamed from the Real to the Escudo. This meant that CP, and possibly some distributors/sellers, had to change the price of the labels and matchboxes they had in manufacture, distribution or storage. They used Surcharge Stickers and Surcharge Overprints to update the price on their boxes to that new currency. The Escudo was divided into 100 centavos.
In a period of strong inflation between 1918 and 1923 significant and periodic price changes were authorized, which implied the same need to update the price of labels and matchboxes that were in manufacture, distribution or storage.
This time the factory decided to overprint the old price with figures made by steel punches using black oil ink, and the distributors/sellers stamped the boxes in blue ink using numerals made in rubber and stamp pad.
In the late 1970s and 1980s there were again high rates of inflation with consequent price increases. The two match factories then in operation in Portugal – the Sociedade Nacional de Fósforos (SNF) and the Fosforeira Portuguesa (FP) – were faced with the same problem as their predecessors, but they had to update bookmatches as well as card matchboxes (skillets), and decided to overprint the new approved price over the old one.
Since 1990 the selling price is no longer displayed on matchboxes or bookmatches in Portugal.
Here is a selection of surcharge stickers, surcharge overprints, matchboxes, bookmatches and skillets showing the range of methods used by the factories to update the prices on their stock. The Catalogue number of each item is also indicated (e.g. CP 73). Click on an image below to enlarge it.
Click here to return to the Exhibition Catalogue.