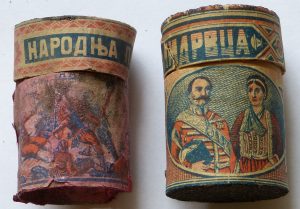 Exhibitor : Vladimír Steiner
The main focus of my collection is matchbox labels from the match factories situated in my region. Matches were first made in Czechia in the mid 19th century, and the two most successful factories were in the town of Sušice near Pilsen which were owned by Mr. Vojtěch Scheinost and Mr. Bernard Fürth respectively.
The subject of this Exhibit is boxes which Mr Scheinost made for export to Serbia, in the middle of the 19th century. The boxes are cylindrical, with labels attached around them, and are now very rare.

In the effort to strengthen the export to Serbia, Mr. Scheinost registered 11 trade marks in the years 1876-77 for labels that showed important events from the history of the Serbian nation. The upper part of the labels have writing : Narodna palidrvca (= National Matches).

Scheinost boxes were exported for many more years to Serbia and that is why more variations of this set exist.

Here are some cylindrical Scheinost labels from my collection, click on an image below to enlarge it and see the labels.

In more recent history, in 1878-79 the Balkan countries broke free from Turkish domination with help of Russia and the independent Kingdom of Serbia was founded.

Click here to return to the Exhibition Catalogue.