Exhibitor : Alan Downer
Friction matches were an essential item for obtaining a "light" (flame) during the second half of 19th and throughout most of the 20th century. They are small and could be dangerous if not suitably handled or stored. This led to many designs of match holder, produced in which to store them. This exhibit shows one such type, Porcelain Matchstrikers made by Conta & Boehme at their factory in Poessneck, Germany. This factory was responsible for many porcelain pieces, but my interest is in their matchstrikers.
The matchstrikers were designed to hold a quantity of strike-anywhere type matches, in common use, which could be struck on any rough surface. To be classed as a "matchstriker" they must have a ridged area onto which it was intended to light a match and a receptacle to hold matches. Some models were produced as a "pair" and some were "single". Most have a factory mark on their base, together with a model number and in some cases a mark of the artist that painted them. Many of them are multicoloured and include a small painted flower in their design.
Some models can also be found in 'blue and white' and in 'green and white'. Some models were made in various colourways and in different sizes. Some are captioned in gold, blue or black script, although the majority of the matchstrikers were not captioned. Most are highly glazed. They were highly fashionable at one time, but being of German origin fell from favour following the wars with Germany in the 20th century. Over the years many were removed from display in homes in Britain and the United States of America where they were most popular. Being made of fine white porcelain, then decorated and glazed, they can be easily damaged. The years have not been kind to many of the survivors, suffering chips, breakages and poor repairs. There are many models to be found, and a collection of them, especially in perfect condition, makes a fine display.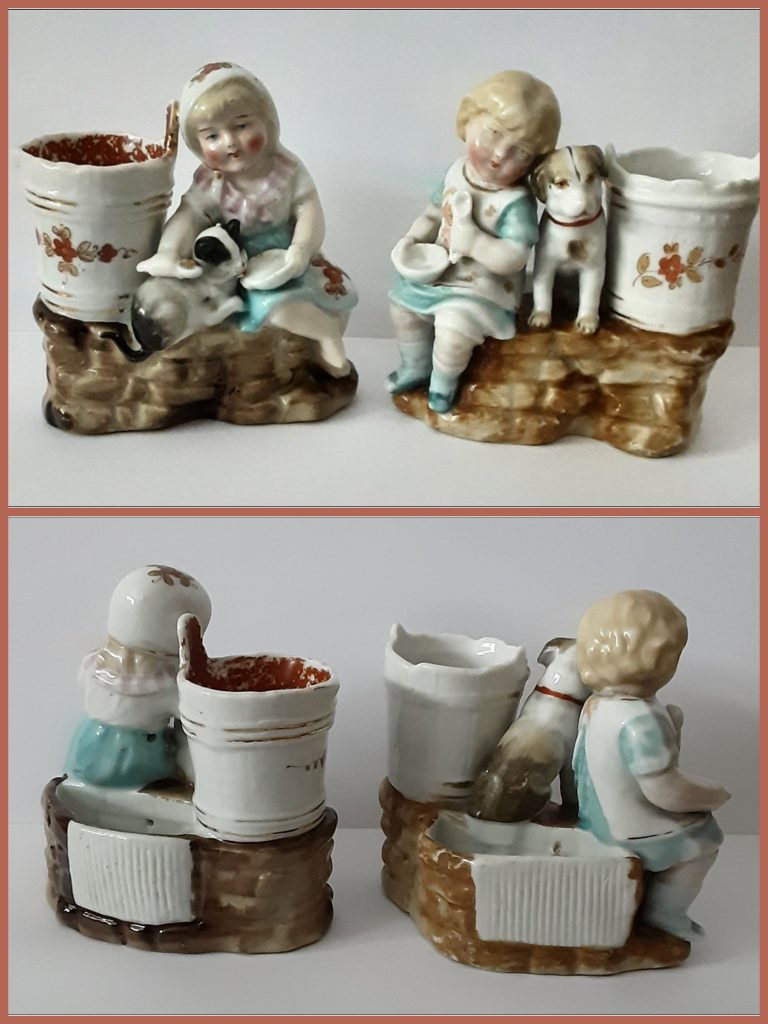 The term "Fairings" is often used for Conta & Boehme pieces. However, the term was coined for the captioned Porcelain pieces. Most of the Porcelain Matchstrikers made by Conta & Boehme are not captioned. "Fairings" are usually the earlier pieces given at fairs as prizes. I believe that the Matchstrikers were mainly later editions, probably sold mostly in shops in Britain and probably also exported to America to be sold in shops. Therefore, I do not usually refer to them as "Fairings". This term is a bit like "go-to-beds" which is a term used later than the production of the items. A catchy, fashionable term, but not exactly a correct description.
The porcelain factory in Poessneck of Johnann Tobias Albert started to produce successful pieces in 1802, after a couple of years of experimentation. The factory was sold to Albrecht (Albert) Wilhelm Ernst Conta and Christian Gottlieb Boehme in 1814. The factory continued to produce porcelain pieces under the name "Conta & Boehme" until it closed in 1931. The production dates of Conta & Boehme Porcelain Matchstrikers is unclear, but which would be after 1850 and most likely up until the factory closed in 1931. The earlier Matchstrikers produced exhibit Victorian influence in their design.
Here are some Matchstrikers from my collection, click on an image below to enlarge it and see the Matchstrikers.
Click here to return to the Exhibition Catalogue.