Swan Vestas – part 3, 1994 to date
Exhibitor : James Oxley-Brennan
This Exhibit tells the story of Swan Vestas, one of the world's most recognisable matchbox brands, from 1883 up to the present day, in three parts :
From 1883 to 1959, the early years, here
From 1959 to 1994, when the Swan image turned right, here
From 1994 to the present day, when manufacturing moved from Britain to Sweden
Swan Vestas were made in London until 1971, Gloucester until 1976, Glasgow until 1981, and Liverpool until 1994 when the Mersey Works factory closed. The entire Bryant & May portfolio was acquired by Swedish Match, the world's largest match company, who still make Swan Vestas matches and other popular brands.
In the UK the Swan Vestas brand is now within the portfolio of Republic Technologies UK, the Society's Patron, and the boxes are imported from Swedish Match. Despite this, I feel that it is still regarded with much affection by the British public.
One of the first promotional campaigns from Swedish Match was in 1995 when they gave away a 'free' Top 40 cassette if you collected 75 tokens, where each matchbox contained one token.
This campaign was scheduled to close on 30th November 1995 but many cassettes were still available so it was extended until 31st July 1996. Boxes from this extended period are much harder to find, but can be identified through details printed on the glue flap of the boxes.
Another popular campaign was for the football World Cup in 1998, where you had to find a blue-tip match in the box in order to claim a prize.
In order to help shopkeepers and to boost sales Swedish Match provided wall-mounted display units. These were supplied free-of-charge and were manufactured in Oadby, Leicestershire.
1999 saw another overhaul of the design, as this full-page advertisement from the Independent Retail News magazine on 15th January 1999 proclaims.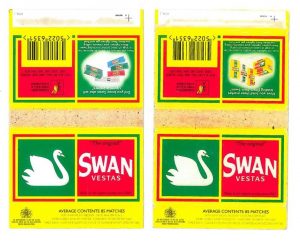 Swedish Match also sold cigarette papers and filters, and used the Swan Vestas boxes to advertise these products
125 years of Swan Vestas
2008 marked 125 years since Swan Vestas matches were first made, and to celebrate the anniversary Swedish Match issued two types of special matchboxes :
boxes which showed old and new designs
a "Strike Gold" promotion, to win £125,000
Up until 2018 Swan Vestas was a strike-anywhere match, which signified that it could be struck on any rough surface (although some export Swan boxes had already contained safety matches). Since 2018 Swan Vestas has been a safety brand, which can only be struck on the specially prepared surfaces on the box. Some of these boxes are shown in the gallery below, click on an image to enlarge it.

For the first part of the Swan Vestas story click here, for the second part click here.

Click here to return to the Exhibition Catalogue.