Swan Vestas – part 2, 1959 to 1994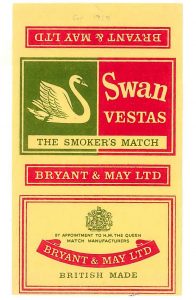 Exhibitor : James Oxley-Brennan
This Exhibit tells the story of Swan Vestas, one of the world's most recognisable matchbox brands, from 1883 up to the present day, in three parts :
From 1883 to 1959, the early years, here
From 1959 to 1994, when the Swan image turned right
From 1994 to the present day, when manufacturing moved from Britain to Sweden, here
In 1959 there was a dramatic change, when the Swan image was turned to face the right. This new design should have been introduced in 1958 but was delayed for a year because the Directors were not happy with the first proposed image, the Swan having longer feathers. The new boxes came on the market in the autumn of 1959, price 4d.
On 15th October 1962 a press notice was published to the effect that the price of Swan Vestas would be raised from 4d to 5d, with increased average contents.
Skillets and decimalisation
Printed cardboard skillets were gradually introduced from June 1966, and became a permanent feature from 1967 onwards.
Decimal currency came into full effect on 15th February 1971, and the 5d boxes were replaced with 2p ones. In June 1971 the price was increased to 3p with average contents of 98.
With an increasing number of people shopping in supermarkets, Bryant & May introduced multi-box wrappers in the late 1960's.
A new box design came in the 1990's, aimed at younger consumers. The old-style dozen wrapper was discontinued and in its place came a carton containing 24 boxes, and shopkeepers were encouraged to place these prominently on their counters.
Bryant & May ran a number of promotions and competitions for Swan Vestas throughout this period in order to boost sales. Here is a poster from 1986, more are shown in the gallery below, click on an image to enlarge it.

For the third part of the Swan Vesta story click here, for the first part click here.

Click here to return to the Exhibition Catalogue.