Old Cornish mines
Exhibitor : Mike Pryor
The Old Cornish Mine series of matchboxes first appeared in England on 20th September 1962 and quickly became popular with the public and with matchbox collectors (phillumenists). They were produced by the Cornish Match Company of Halsetown, Cornwall.
The first box showed Rosemergy Mine and contained 36 Russian matches.
All the Old Cornish Mine wooden boxes were imported from USSR and the labels originated from the Latvian factories of Kometa or Baltija.
Over the course of the next four years many more numbered boxes were issued showing different images painted by local artists, but although the labels say "series of 50″ only 21 different illustrations were used. These illustrations appeared on small size, regular size, dozen, gross and mantelpiece size labels.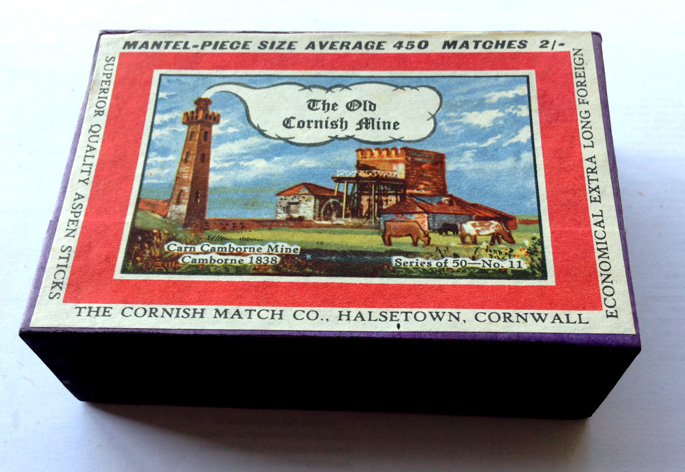 The first series of eight regular sized boxes contained 36 matches, the second series of twenty had 35 matches and the last series of ten contained 34 matches.
The Gross packets labels are really mini works-of-art and show the paintings clearly.
In 1966 the Cornish Match Company decided to discontinue the Old Cornish Mine labels and concentrate on other series, including the popular Cornish Wreck series. More information about all these Series can be found on my web site Old Cornish Mine Matchbox Labels.
The gallery below shows some more images of Old Cornish Mine boxes and labels, click on an image to enlarge it.
Click here to return to the Exhibition Catalogue.