Exhibitor : Derek Judd
This is my very first bookmatch, on the left, which I collected in Oban, Scotland, when I was on a family holiday in the late 1960's.
I started collecting the matchbooks as a memento of the holiday or going to a restaurant, and have now amassed over 6,500 of the three main sizes of bookmatches made by Bryant & May.
As you can see from the picture on the right, I also collect bookmatch holders (match safes). These attracted me because they are not so common, show varied advertising and use many different materials.
The materials that they are made of in my collection are base metals, plastic, bakelite, leather, sterling silver etc. These holders have various forms of advertising and/or pictures depicted on them. The earliest dated example is in relation to the coronation of King George VI in May 1937.
Bookmatches have been packaged in various ways and amounts to be shipped to their final destination. The picture on the left shows a cardboard box i.e. Caddy with 100 bookmatches. This type of packaging was also used to make a souvenir presentation box but of a smaller amount. This was not the only material used to package matches, paper was also used. These caddies were packaged in wooden packing cases later to become cardboard boxes. I only started collecting Caddies when these items were seen at meetings and for me they have to be complete and obviously all of the same advertising medium hence the one shown is all full of Bryant & May bookmatches advertising Bryant & May.
Here are some other "firsts" in my collection which I am very fond of.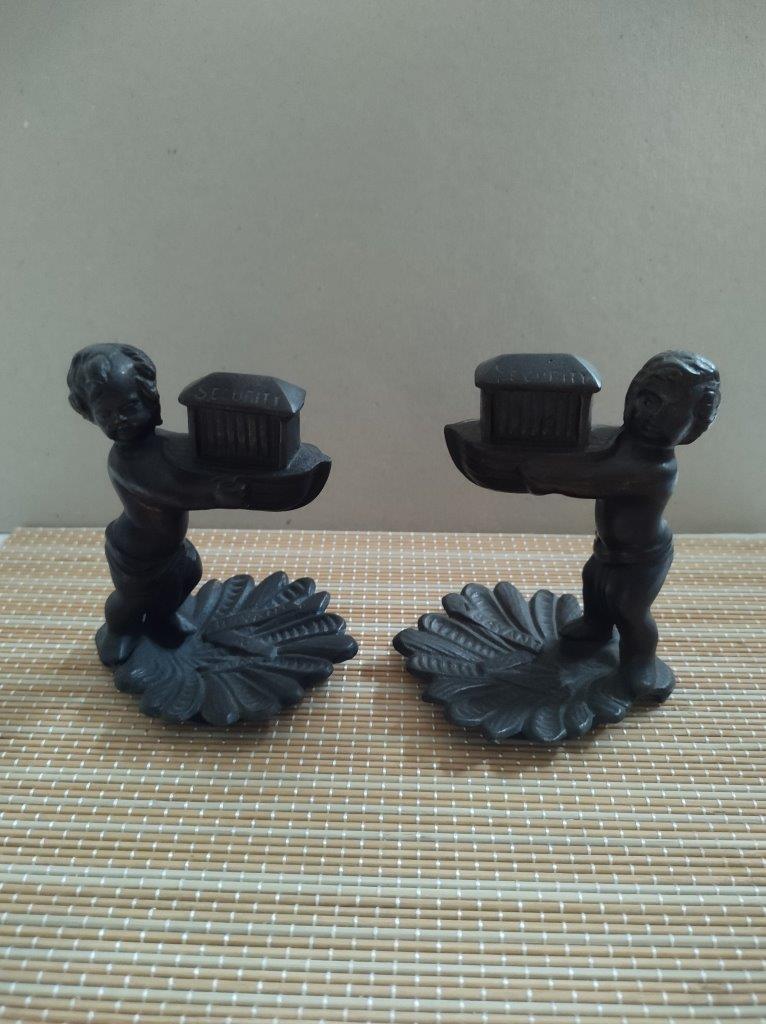 The cherubs on the left are made of cast iron and have Bryant & May impressed upon them, and have become part of my collection of hardware.
These cherubs are shown in the book "Collectable Match Holders of Bryant & May" by Bob Swithenbank, which explains that they appeared in Bryant & May's catalogue of 1894.
This Swan Vesta grip is solid silver and was made in Edinburgh in 1976 for the Queen's silver jubilee in 1977. To my knowledge there were only six ever made plus a gold one for the Queen and I do not know the existence of the other five. They were made to hold the matches to light certain beacons around the country.
Hopefully these model cars are self explanatory. They were purchased at an auction and I liked them because they were in a box and in mint condition.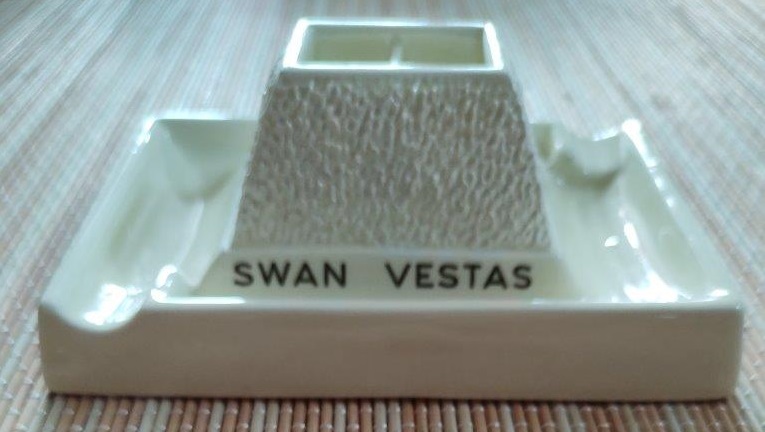 This china match holder was made by Mintons c.1911-1920 advertising Swan Vestas. The holder is divided into two small areas for the matches and the striking surface is on all 4 sides with 2 cigarette grooves.
Click here to return to the Exhibition Catalogue.