Bengal matches – a colourful story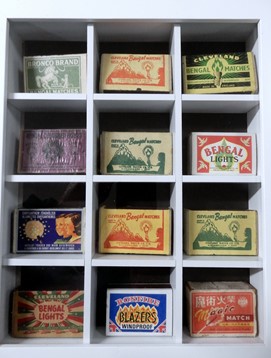 Exhibitor : Barry Sturman
This exhibit shows part of my collection of Bengal matchbox labels. I am particularly interested in Bengal matches as they combine two of my main interests: match paraphernalia and fireworks.
Bengal Matches are a special type of pyrotechnic match that generally burn for a longer time than ordinary matches and give off a brightly coloured flame when burning. They have a wooden splint and two composition parts : one at the tip to initiate combustion, and the other adjoining the head along a long length of the splint. Bengal matches are still manufactured today that flare either green, red or silver, and most are made in India.
The labels in this exhibit are only a fraction of my Bengal match collection, which also includes skillets and empty boxes. Click on an image below to enlarge it.
Further details can be found on the first page of the display, click on an image to enlarge it.
Click here to return to the Exhibition Catalogue.